---
Practical Information
---
After arriving to the Airport
Unlike other airports throughout Europe, Lisbon's (Humberto Delgado International Airport) is located very close to the city center. So, after landing, you will not have a long travelling time to your final destination!
Perhaps the easiest way to get to the conference venue is to take the Metro. The red line, starting at the airport, will leave you < 500 m away from IST for €1.45 (single trip ticket), either you choose to exit at Alameda or Saldanha stations. With a little bit of planing, the rechargeable VIVA card (valid for both bus and metro) will let you travel freely around the city during your stay.
At the airport you can also take either an Aerobus, direct line to the city center (line 91) available every 20 minutes from 7:00 to 21:00, or the regular bus lines. Find out more about routes, prices and other practical tips here.
If you prefer to take a Taxi, charges will be according to the meter, costing around €10 to get to the city center during the day, and a little more at night.
Alternately, you can also buy a taxi-voucher in the airport. This way you pay a fixed amount and you don't have to worry about arguing about the price. Depending on the distance you want to cover, the price of the taxi-voucher varies between €15 and €30.
Smartphone App based services such as Uber, MyTaxy, Taxify, Cabify, 99, MEOTaxi and Chauffeur Prive are also all available in Lisbon.
---
Conference Location
Instituto de Plasmas e Fusão Nuclear (IPFN) is pleased to host the workshop at Instituto Superior Técnico (IST) Conference Center.
IST's Conference Center provides one auditorium (300 pax capacity), five meeting rooms (50 pax capacity) and several pleasant meeting spaces for you to meet with your peers.
It has a sophisticated support system to the organization of congresses, conferences, workshops and colloquiums with a high standard of quality services:
Support to event organizations;
Technical assistance;
Audiovisual support (integrated projection and audio);
Screen sizes: 4 m x 3 m and 6 m x 4 m;
Videoconferencing.
---
---
---
Getting to the Conference location
The IST Conference Center is located at:
Central area of Lisbon with several bus and underground line services;
3 km from the international airport;
5-10 minutes from main city hotels;
5 minutes from Lisbon commercial area.
The GPS coordinates are: 38°44'14.0"N 9°08'23.7"W
---
Accommodation
There are several hotels in the IST and Congress Centre surrounding area. The Local Organizing Committee will be very pleased to provide all the required information should the participants wish to find alternatives to the suggestions below.
---
| Hotels (prices are indicative only) | Single | Double |
| --- | --- | --- |
| H1 - Hotel Turim Alameda | 147€ | 157€ |
| H2 - Hotel VIP Grand Lisboa & SPA | 140€ | 150€ |
| H3 - Hotel Holiday Inn Lisboa | 135€ | 145€ |
| H4 - Hotel Holiday Inn Lisbon Continental | 135€ | 145€ |
| H5 - Hotel VIP Inn Berna | 90€ | 95€ |
| H6 - Hotel Lutecia | 80€ | 90€ |
| H7 - Hotel AS Lisboa | 90€ | 100€ |
| H8 - Hotel Alif | 70€ | 80€ |
| H9 - Hotel Roma | 65€ | 75€ |
---
---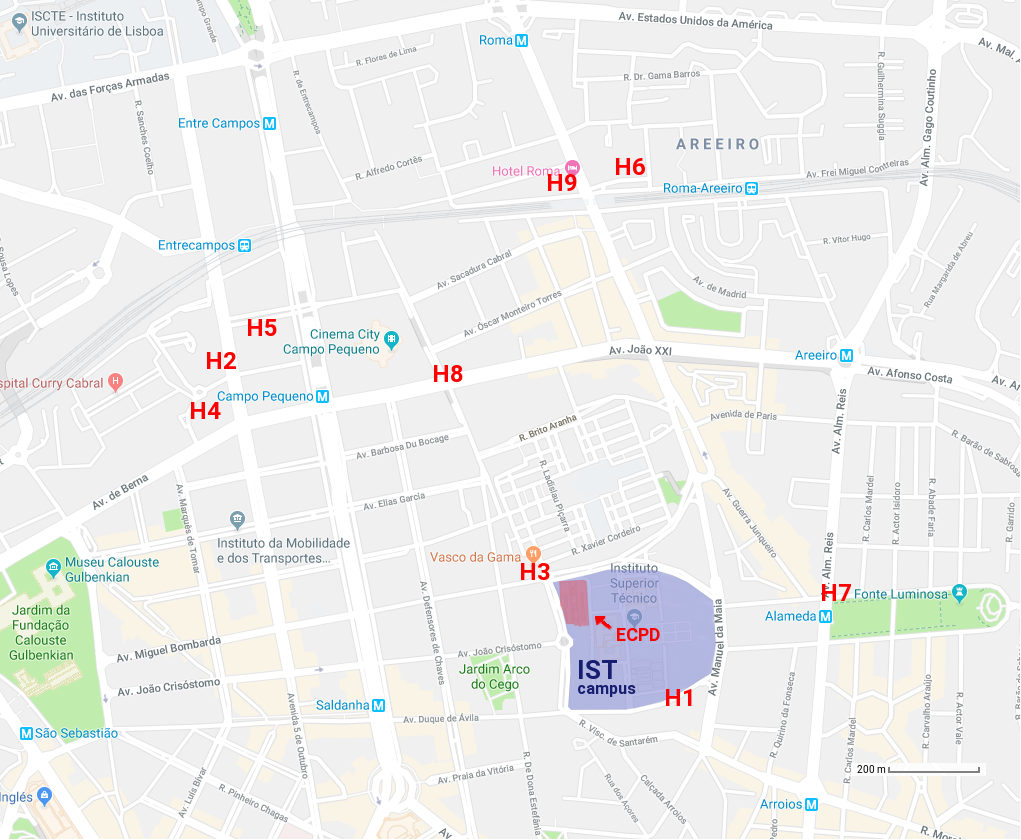 ---
The city of Lisbon
---

---
Lisboa is the capital and most important city of Portugal. It's the sunniest European capital and one of the most ancient cities in the world. As such, it has a very rich history! Discover the amazing monuments and world class museums that will certainly make you want to take thousands of pictures. Look for the traditional city that has centuries of history while visiting Alfama, Mouraria, Castelo and other traditional neighbourhoods. Listen to the traditional portuguese song, Fado, and be transported to a new dimension of feelings. The local gastronomy is highly appreciated by people all over the world. The city has a vibrant nightlife, with lots of bars, restaurants and pubs where you can spend some quality time with your friends or make new ones. Discover the wonderful city attractions, the best things to do and places to go with your family and friends.
For more information you can start by visiting one of these sites: www.cityguidelisbon.com, www.lonelyplanet.com, www.geekyexplorer.com, www.lisbonlisboaportugal.com, www.timeout.com
---
---