Industrial Exhibition
A technical exhibition will be on display during the congress and will constantly be available to the participants during the 4 days of the meeting.
Sponsors

How to become actors of the conference
The participants at ANIMMA conference are specialists and worldwide experts in nuclear instrumentation and measurement methods.
Come to meet them during break times and lunches fitted out specially to facilitate the exchanges.
Value your company by associating your image to that of an international scientific conference.
For it we propose you several possibilities:
Item
Price Rate (euros)
Pre-equipped Stand (Booth*) of 9m2 including


2 free badges
Carpet
Rail of 2 spotlights,
Table
2 chairs,
1 electric casket of 1KW

*Please note that additional equipment (e.g. LCD monitors, peripherals and computer accessories, book stands, etc.) is available upon request. The list of additional furniture items and prices are available here.

2500 €
(before March 15, 2015)

3500 €
(after March 15 2015)



Congress bags
5000 €
Insertion congress bags
1200 €
USB key
2000 €
Advertising in portfolio of conference programme
Back cover
2000 €
2nd and 3rd cover page
1500 €
Internal page
1000 €
Bookmark
3000 €
Cords badges
5000 €
Gala evening
15000 €
Welcome reception
7500 €
Lunch sponsoring
6000 €
Coffee break sponsoring
3000 €
Evening cocktail
5000 €
Musical show
5000 €
You just want to present a poster of your company?
Please register as participant in the conference and send us an email requesting a poster location in the Industrial Exhbition area.
For further information please contact:
Bruno Soares Gonçalves
Phone: +351 21 841 7934
Email: animma@ipfn.tecnico.ulisboa.pt
Picture of the industrial exhibition layout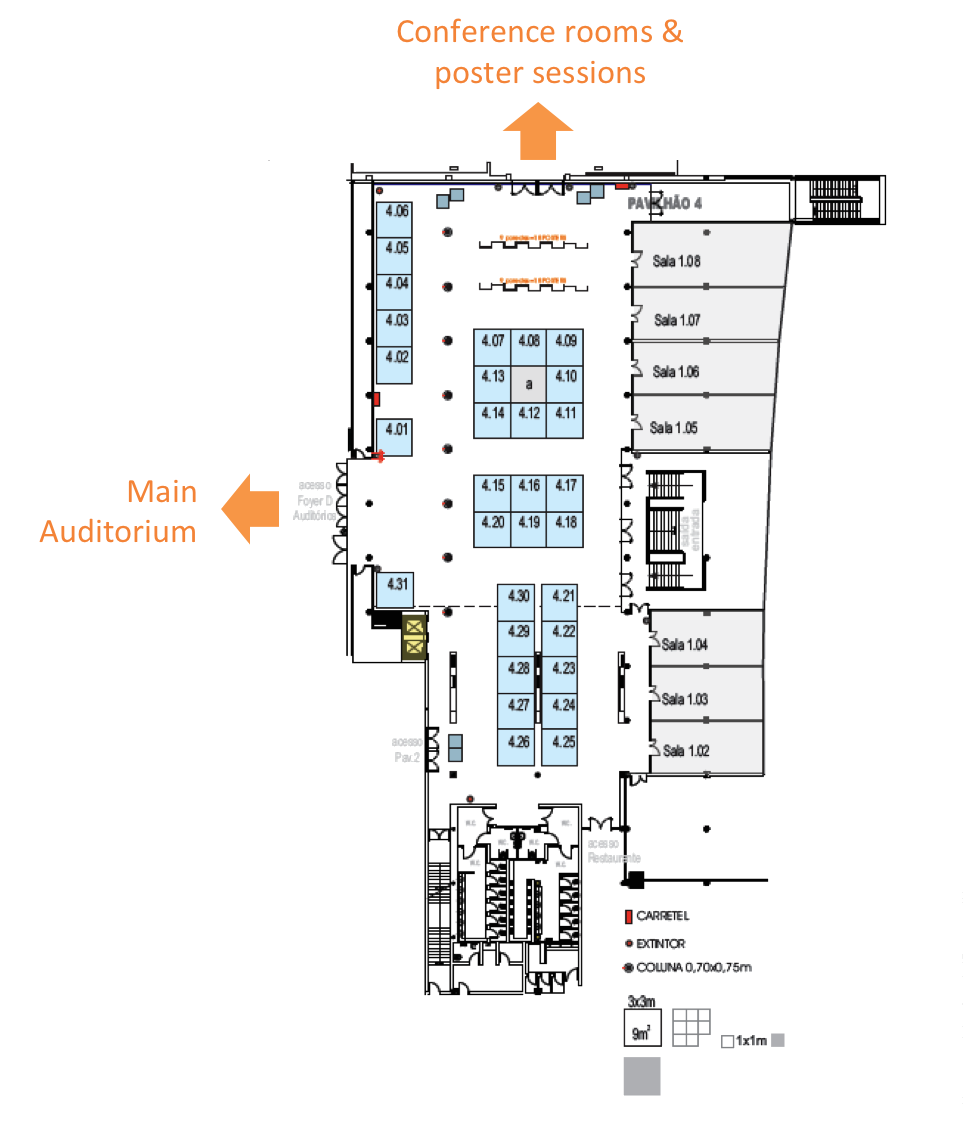 Picture of the proposed stand
Instructions to the exhibitors
All deliveries of your equipment for your booth should be sent to the following address, indicating the name of the company and the name of the event
ANIMMA 2015 until 19th April 2015.
The material should be sent to:
Lisbon Congress Centre
Address: Praça das Indústrias
1300-307 Lisboa
Tel: +(351) 213601400
Fax: +(351) 213601499

Exhibition Hall - Pav. 4, located on 1st Floor (near to the conference rooms; see above)
Set up and dismantling schedule:
Exhibition Set Up
Sunday April 19th: 14.30 - 19.00
Exhibition Dismantle
Friday April 24th: 16.30 - 20.00
Please note that no dismantling or packing may begin prior to the official closing time of the Conference on 24 April at 16h30.
Exhibition Opening Hours
Monday April 20th: 08.30 - 18.30
Tuesday April 21st: 08.30 - 18.30
Wednesday April 22nd: 08.30 - 18.30
Thursday April 23rd: 08.30 - 18.30
Friday April 24th: 08.30 - 16.30