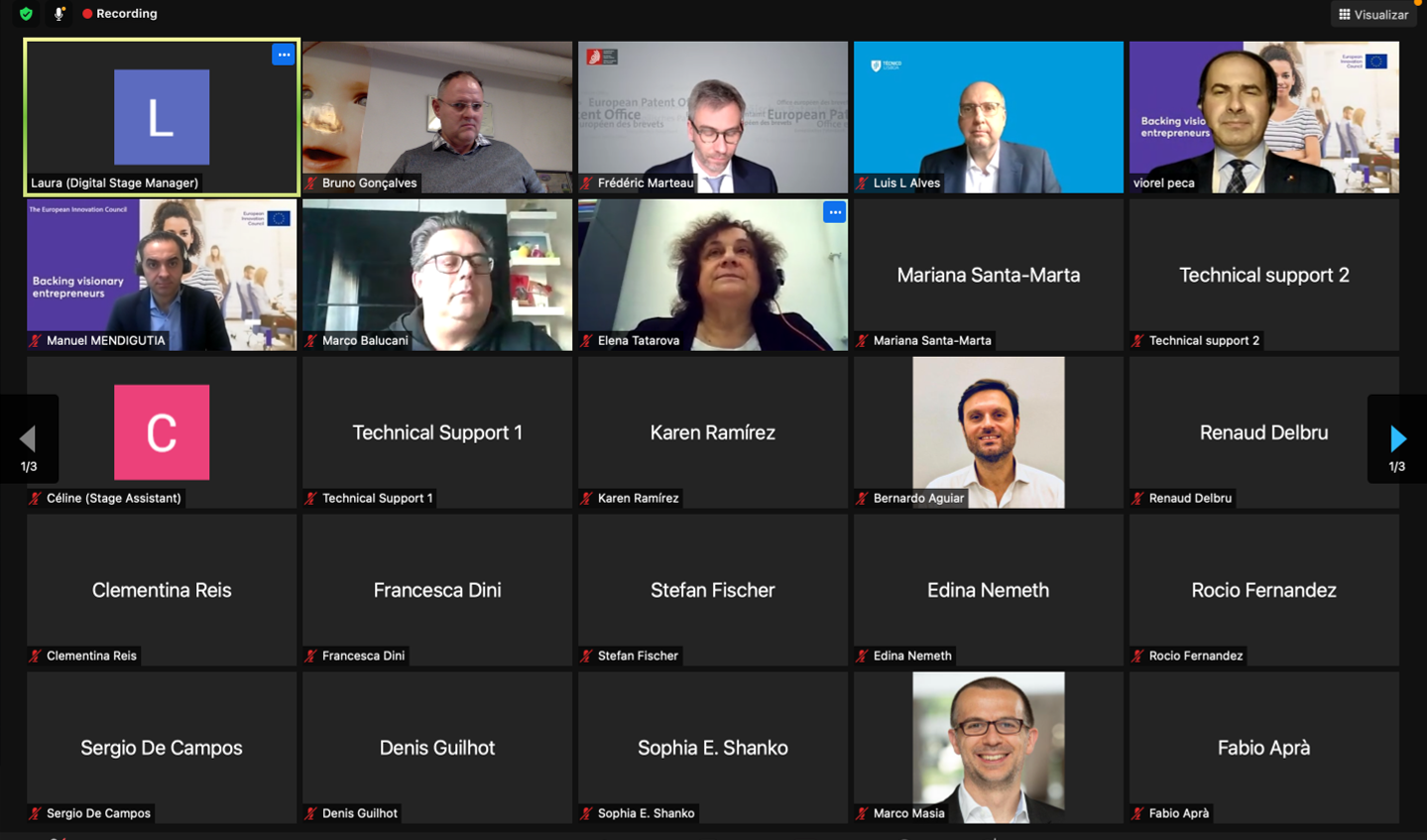 PEGASUS patents at the EIC Summit 21
IPFN researchers Elena Tatarova (PI of project PEGASUS and the Plasma Engineering Laboratory of group N-PRiME), Bruno Gonçalves (President of IPFN) and Luís L. Alves (Head of group N-PRiME) were invited to deliver a talk in the training session 'Let's Talk Patent' during the European Innovation Council (EIC) Summit 21.
The first EIC Summit, held in 24-25 November 2021, offered a unique opportunity to connect and network through a hybrid programme, organized around three topics – Training, Networking and Awards - that has allowed to explore major policy updates and delved into many relevant topics for the European community.
The online training track sessions were designed to connect & network the best start-ups, innovators, researchers and investors. The knowledge shared by these partners allowed the attendees to learn tips and tricks on patents and intellectual property rights, discuss technology transfers, pick up new pitching techniques and find out how to reach carbon neutrality.
The training session 'Let's talk patent' underlined the relevance of intellectual property in EIC projects. Indeed, the early detection and protection of inventions can facilitate the future exploitation of scientific results and give value to the resulting companies.
The webinar started with a general survey about the process of patenting given by Frédéric Marteau, Manager at the European Patent Academy of the European Patent Office in charge of Technology Transfer and Dissemination. The session continued with the talk "Versatile Plasma-based machine for a large-scale production of graphene&derivatives || Patent Portfolio" by E Tatarova, B Gonçalves and LL Alves. These researchers explained what and how to patent, exemplifying with the success case resulting from project PEGASUS (Plasma Enabled and Graphene Allowed Synthesis of Unique nanoStructures) that introduced a disruptive plasma technology for the synthesis-by-design of high-quality graphene and derivatives.
"Thanks to the PEGASUS project, we have been able to extend 2D materials expertise towards a wider set of key-enabling technologies, namely advanced materials with higher performance, nanotechnology, and advanced manufacturing", says Dr Tatarova.
These ingredients are excellent for patenting because "you cannot simply patent an idea: you need to make the idea a reality to be patentable, and to make sure that your invention is new and unique, and not just a variant of another known invention", as mentioned by Prof. Luís L. Alves. "In our case, the outcome after 5 years is a patent portfolio with 5 main patents, submitted to 4 patent offices (corresponding to 12 active processes), leading 2 patents granted and 2 others about to be approved."